Whoa.
This is my favorite part- where Lambuel is late for church (oh no!) and he must avoid temptations along the way:
It seems as though the temptations along the way include:
-lipstick (because Jesus HATES it when you put on mommy's makeup. It makes baby Jesus cry)
-a zero dollar bill (those don't look real good in the collection plate!)
-bed (either for sleep or . . . well, a temptation nonetheless)
-ice cream (which, as all good Christians know, only leads to eternal damnation.)
And here's another fun thing- click on the "Anti-Triclavianist" link in the left sidebar, and you will get "
The Pastor's Corner
," in which Pastor Andrew Miller offers a jaunty little "Rap" as an argument against the baptism of infants as "Wack." "Do not be put off by the unusual spelling;" he says, "it is part of the hip-hop vernacular."
Ah, that's what those young kids are listening to these days- ecclesiastical hip-hop.
And it just keeps getting better- a proposed change to the United States Flag: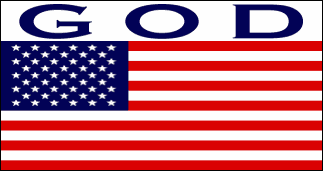 Wow, apparently this particular denomination sees "subtlety" as a sin against nature.
As Diamond Jack Holgroth, the flag's designer says, though:
The design is non-denominational, and so won't offend the religious minorities who have yet to fully integrate into American Christian society.
Uh huh.
And lastly,
Dr. Troy Franklin
would like to reclaim Halloween . . . perhaps because it is the only time of year that he appears normal.
Wow. Either this is superb parody, or we have more to worry about than I thought. . .