Well, since the
sister
is leaving for Africa, and I'm too entrenched in my bourgeois lifestyle right now to do anything as nutty and ambitious as that, I got my hair colored. Yeah, that'll teach the establishment. Streaks of bleach blonde on top, nearly black underneath. Take that, capitalist pigs!
Anyway.
In the spirit of Friday-let's-post-a-picture-and-not-blog-about-what-is-really-going-on-blogging, here is a pic of a cat that we met in the Mountains over our trip. Mountain cats all seem to have this funny, stunted physique- they are short-legged and very round. Probably due to a diet of table scraps and whatever they can catch.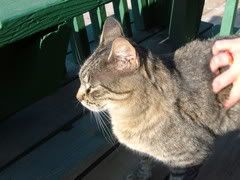 And, for comic relief, here's my mom's dog, sitting on his panda toy.