What could be better?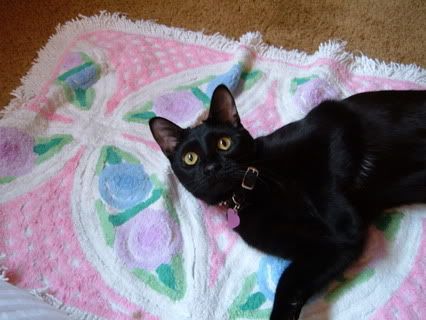 Audrey on her favorite rug . . .
AND
Denver metro concert update:
1. Looks like Oasis and Kasabian are coming to Red Rocks September 20 for what I will call the "
Pompous Belligerent Asshole Summer Tour
." Too bad I like the sound of both bands . . . they seem like groups that would be really fun to dislike.
2. Nine Inch Nails, Queens of the Stone age and Autolux are headed to the
Pepsi Center
in October for a concert that is sure to bring together at least two generations of pasty white guys with notebooks full of poetry using the word "tortured."
3. System of the Down, The Mars Volta and Bad Acid Trip, Oct. 2 at the Pepsi Center. Word to the wise- this is going to be like a
good music sandwich
made with crap for bread. I intend to wait for the day when SOAD is opening for The Mars Volta, then it might be worth going. By then the tweens who listen to SOAD and cry about girlfriends named Hayleigh will probably have gotten over it. Probably.
4. Rufus Wainwright, Ben Lee and Ben Folds,
Aug. 16
at the Fillmore. This could be cool, but I envision the crowd as a Chex Mix of supersensitive gay guys, starry-eyed piano girls with reluctant boyfriends and plenty of college girls. Might not be worth it.
5. White Stripes, Aug. 22 at Red Rocks (I dig the color + object combo. They should have a festival with the White Stripes, the Legendary Pink Dots, Green Day and Black Flag at Red Rocks . . . or maybe not). Come for Jack White's mental illness, stay for Meg White's enthusiastic, if not terribly complex drum antics.
6.
Tom Petty
, Aug. 30 and 31 at Red Rocks. Yes, I'm going. No, I'm not really a huge "fan" of Tom Petty, I mean, he's alright and I love "American Girl." But in my house, growing up, you listened to Tom Petty. To say you don't like him would be like saying you didn't like oxygen.
7.
Tori Amos
, Sept. 5 at Red Rocks (man, the Rocks are having a killer lineup this fall). I was not one of those "Tori" girls growing up, you know, the kinds of girls, with their glitter makeup and their well-practiced smirks and dyed red hair and their Trent Reznor boyfriends and their
own
notebooks full of "tortured" poetry. But I still dig her, and she always tears it up at Red Rocks.
8.
Devo
and Flock of Seagulls at Coors Amphitheater (formerly known as Fiddler's Green. Before Colorado was officially owned by beer). The "Whip It" video is among my first television memories. Kinda explains the subsequent weirdness I exhibited as a child.
9.
Henry Rollins
, Macky Auditorium (Boulder), Nov. 5. Hells yeah.
Passing us by (damn you!):
Beck- sticking to the coasts. Bastard. I wanted to see "Que Onda Guero" live, dammit!He's also touring with Le Tigre this year. Double dammit.
Dolly Parton- six dates in freakin' Canada, none in flyover country. Bloody hell.
Cake- Sticking to California, Oregon and the East Coast this year. Fine. You know what? I didn't even like "No Phone" that much. Okay, yeah, I did.
Coldplay- What?
The rain
from last time scare you off? You're from freakin' ENGLAND.
An ad in Westword today prompted me to consider heading to Vegas for the
Las Vegoose
festival. I'm no Dave Matthews fan (a couple of years living in Boulder will either suck you into the Dave Matthews Vortex or sour you on them forever) but Flaming Lips, The Arcade Fire, The Shins and Ween could be fun.
Plus, it's Vegas, baby.