It's my last day at the paper. It's cold out. I have nothing to do.
I have no new kitty pics (and she looks pretty much the same anyway) and no new music (though I've been putting Tarantella and Neko Case into heavy rotation lately) so here's something new.
The latest addition (Pair No. 30- a landmark of sorts):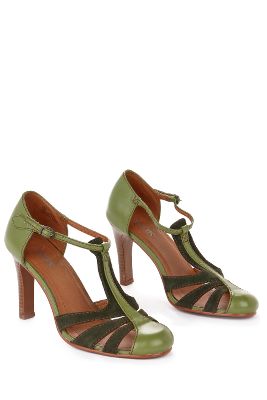 Green leather with pine suede (as a green-eyed girl, I believe green goes with anything) and a vintage stack heel. They look awesome with purple tights and a short skirt.
And I still have enough money to put aside a bit for the scooter.
For actual, substantive, politically relevant content, I direct you to the other place where I write for free:
Colorado Soapblox
. Otherwise, I'm tapped and bored and shoeblogging is about all I can manage. Happy weekend.
I'll be out through next Monday on vacation, so probably no posting unless I make it to the gay coffeehouse up the hill that has free wireless (all these older gay dudes go up there for Internet dates. So my surfing/blogging is conducted through the ambient noise of older gay men making small talk). So until next time . . .