OK, first: the music . . .
1. No Phone, Cake.
2. Do You Realize, The Flaming Lips.
3. Brothers on a Hotel Bed, Deathcab for Cutie.
4. Brick Is Red, Pixies.
5. Cold Brains, Beck.
6. Every Planet We Reach is Dead, Gorillaz.
7. Oh Word, Beastie Boys.
8. Naomi, Neutral Milk Hotel.
9. All Falls Down, Kanye West feat. Syleena Johnson.
10. Too Little, Too Late, Metric.
And now, kitties.
Background: last weekend the boy and I went shopping around to find him a trusty animal companion. A faithful friend. A partner in crime. So, we went on down to a sketchy little stretch of Santa Fe Blvd. down near Englewood to a shelter called the Animal Rescue and Adoption Society, a cat shelter teeming with big cats, small cats, old cats, young cats, sweet old toms and big bitchy kitties. Here are some highlights: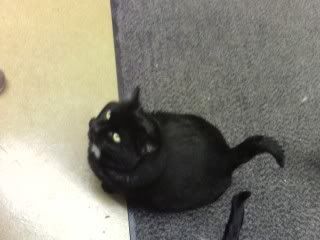 This was literally the biggest cat I've ever seen in my life. He looks like he has swallowed a medicine ball. He was simply stunning.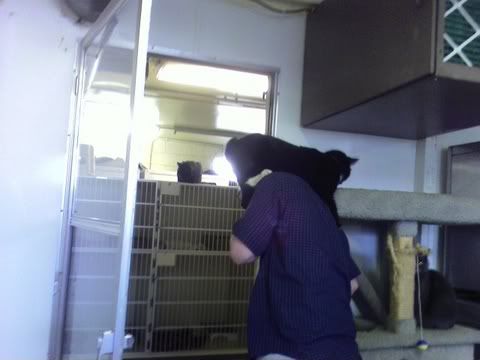 Looked over just in time to see the boyfriend getting some serious kitty loving . . .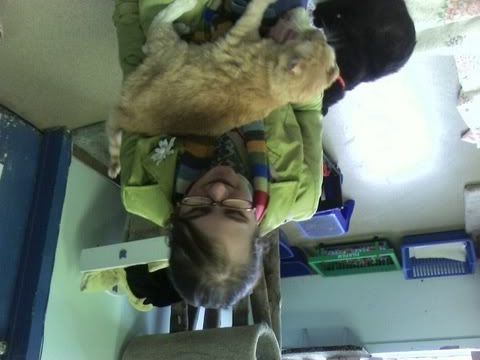 This guy's name was Sexy Rex. He's an 18-year-old stray with cauliflower ears and tufty old-cat fur. The sweetest cat ever. The old, street-beaten toms always are.
For more info, check out the
shelter site
. They need all the help they can get. And not to get all Bob Barker here, but please, fix your kitties.